Fun Upcoming Events at Lucky Bernie's Locations
Lucky Bernie's is proud to bring guests events that bring you and your loved ones an unforgettable night filled with:
Our bars/sandwich shops are located throughout Northern Illinois – come on in and celebrate with us! We look forward to your arrival.

All events for Lucky Bernie's Paint & Sip – Huntly
April 2018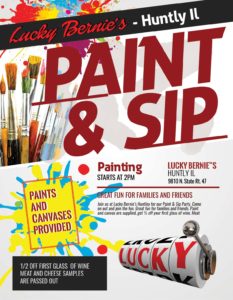 Join us at Lucky Bernie's Huntley for our Paint & Sip Party. Come on out and join the fun. Great fun for families and friends. Paint and canvas are supplied, get ½ off your first glass of wine. Meat and cheese sampler are passed out. Starts at 2:00pm Dates: Apr. 21st May 19th July 21st Aug.18th If you have any questions or need any further information, contact Diane at 847-414-0587. Bring your friends and family.
Find out more »