Fun Upcoming Events at Lucky Bernie's Locations
Lucky Bernie's is proud to bring guests events that bring you and your loved ones an unforgettable night filled with:
Our bars/sandwich shops are located throughout Northern Illinois – come on in and celebrate with us! We look forward to your arrival.

All events for Trivia Night
November 2019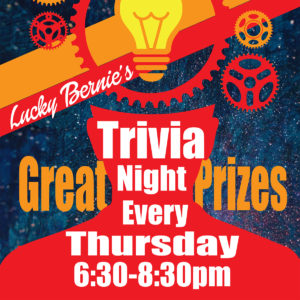 Join us on Thursday night for trivia night. Not only is it a lot of fun and we have great prizes, you may even learn something!
Find out more »